Welcome to

Positive Sports Training

Cedar Rapids Youth Baseball Non-Profit Organization

News and Upcoming Events

Updated: 01-18-2019

PST LEAGUE

Rain Out Procedures

For Tait Cummins and Noelridge

call the city Rainout line:

319-286-5700

For Lowe Park call the PST Rainout Line: 319-242-7377

All other fields you must contact the opposing home field coach.

Home field coaches must contact the following people:

- Contact the opposing coach

- 2 or more Hours before game time

  E-mail the Master Scheduler at:

           pstumpires@gmail.com

- 1-2 Hours before game time call:

  319-651-5755  or   319-213-0405

When Cancelling provide name, age group, teams playing, field and game time. Make sure you receive a reply as confirmation

**When cancelling 1 hour or less due to weather coaches to pay umpires 50% for other reasons pay umpires 100%; once game starts umpires receive 100% before game starts.



(319) 242-7377
View on-line or use the free app!
-NEW- 01-18-19

UPCOMING EVENTS:

PST League Coaches Meeting

Sunday, Feburary 10th  4:00pm at Longbranch

Age Group Commissioners Meeting

Tuesday, Feburary 19th  6:00pm at Longbranch

PST League Scheduling Meeting

Sunday, March 3rd  time: TBD at Longbranch

-NEW- 12-08-18

PST has discounted 7U Team registration 50%. 7U teams will only pay $150 to join the league. Please contact a Board Member if you have any league questions.

-NEW- 11-27-18

We have posted the NEW Corridor Classic Tournament registration sheet. Go to "Handouts" at the tope of tthe website and download. Send in today for your early bird discount.

-PST League Teams receive $100 early Bird before March 5th.

-NEW- 11-27-18

PST Baseball will be offering Fastpitch Softball Tournaments. More information will be posted along with registration and rules.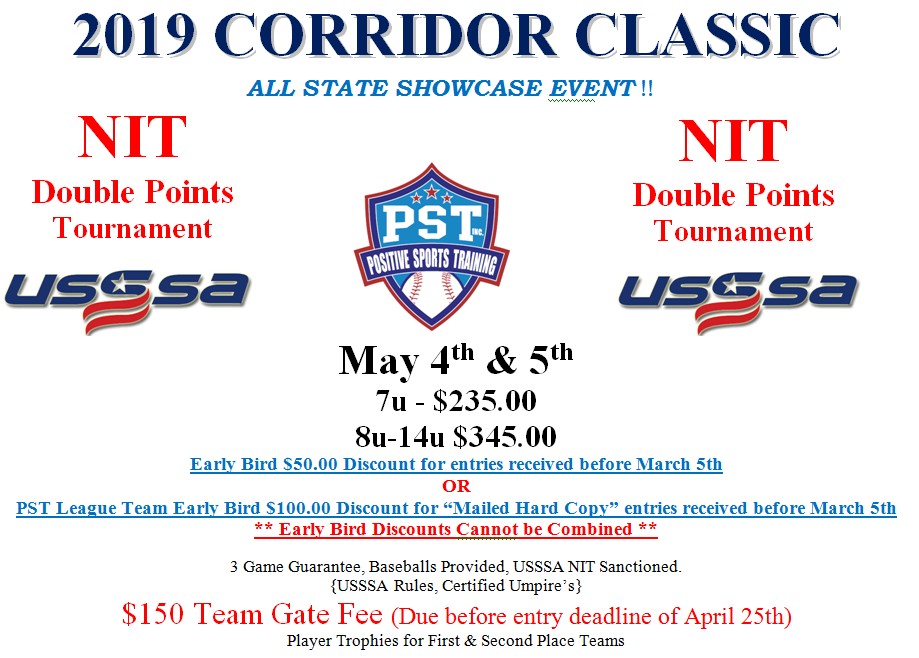 2019 PST Online Registration

Opens January 1st closes on the 31st.

The On-Line registration is for all Independant teams.

"NEW This Year"

All Linn Mar teams Now have the option to register On-Line